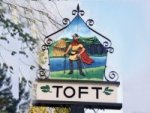 Toft, Cambridge
Toft Village Calendar
Toft has a monthly newsletter, called The Village Calendar, which is produced monthly and delivered to all households in Toft.
The Editor is Mick Walker.
Deadline for submissions to the Calendar is the 20th of the month.
If you wish to advertise in the Calendar, please contact us by clicking here.