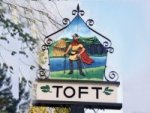 Toft, Cambridge
Latest
Defibrillator Training – learn how to save a life
Toft has its own defibrillator, or AED, located at the People's Hall. This device can save the life of someone who has suffered a sudden cardiac arrest. By the time an ambulance has reached Toft it could be too late. Prompt use of the AED could restart their heart and save their life. It is easy to use and the more people in Toft who know how to use it the better. So do come along to the training session in Toft People's Hall on Wednesday 22nd November at 18.30. There will be a professional trainer, manikins to practice on and refreshments will be provided.
It would be helpful to know how many people might come so we have enough equipment and refreshments so please email Parish Councillor Christine Watson (defib2023@tpc.toft.org.uk) or telephone her on 07730941946 to let us know if you are planning to come. You can, of course, just turn up on the night. We'll be delighted to see you!
The Beacon gets a new home
The beacon which was previously located on Church Drift, has now been relocated to Lot Meadow in order to make it more accessible. The installation was completed today (18-May-22) - well done to all involved in the move! We'll be writing up the story of the move soon!
Here are some photos of the beacon in its new home awaiting a coat of paint.
Schoolroom Community Cafe
The Club
The Club is open every Thursday and Friday evening, and on a some Saturdays for films and music - see more here
Toft Village Hall
Next Events
Toft Social Club
02-Dec-23The Club Open Mic / Music Night
The Club's popular music night
07-Dec-23Toft Art
The Club's monthly Art Class / Meeting
08-Dec-23Carpet Bowls
Toft Bingo
09-Dec-23The Club Christmas Dinner
The world famous Club Christmas Dinner
Toft Parish Council
Village Calendar - Newsletter
Social Media