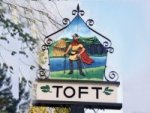 Toft, Cambridge
About Toft
Toft is a small village based in the South West of Cambridgeshire, approximately 6 miles from the City of Cambridge. The parish is intersected by the Greenwich Meridian. In the 2001 Census, Toft had 219 households and a population of 583. The name "Toft" is derived from an old Viking word meaning "curtilage" or "homestead". Toft was listed in the Domesday Book of 1086 (as Tofth), then having a population of about 193.
Toft has two churches, St Andrews' Parish Church and the Methodist Church, which under a covenant between the two, means they are collectively called "the Church in Toft", sharing both social and religious events for the community.
Given it's size, the village has a surprisingly active social scene with regular coffee mornings, Brownies, Social Club and similar activities. The village hall, known as the People's Hall, has recently been extended and upgraded - this offers excellent facilities and houses the very active Social Club.
The village has a combined Village Store and Post Office. There is a small playground equipped with activity equipment.
Comberton Village College on the outskirts of Comberton lies within Toft Parish Boundaries. There are a number of businesses within the village and there is a strong farming influence.
Much of Toft is listed as a conservation area where development is strictly controlled to ensure that any changes are in keeping with the existing rural character of the village. In addition, Toft's low level of service provision means that it is classified for "infill" development only in areas within the village framework.
Clubs and Societies
Embroidery Group
Meet every Tuesday afternoon at The People's Hall in term time - new members welcome
Swimming Club
Based at Comberton Village College
The Internet Club
A club offering help with modern technology!
Toft Bell Ringers
The Toft Bell Ringers are keen to invite more people to get involved in this social activity. St Andrews Parish Church has six bells which attracts a band of ringers who are nearly always available for ringing before church services but with no obligation to stay for the service it should be noted.
If you are interested in more information, please contact James Wycroft, who is Bell Tower Captain (as the official definition puts it!)
Toft Film Club
Toft Friendship Club
A group for over 50's that meets monthly
Toft Historical Society
Toft IW
An informal get-together, which is open to all the women of Toft and meets monthly. Please contact Linda on 263672 or Jane on 262309
Toft Photo Group
Toft Social Club
Sport & Leisure
Golf - Nearest
Meridian Golf Club, Toft - click for more details
Bourn Golf Club, Bourn - click for more details
Pubs & Restaurants
Tai Yuen Chinese Resturant, Toft
The Blue Lion, Hardwick
The Willow Tree, Bourn